Meet the New Bosses: How These Entrepreneurs Under 20 Are Changing Industries
The next generation isn't coming. It's already here. These are nine young entrepreneurs, including our September issue cover star, worth watching.
13 min read
This story appears in the September 2018 issue of Entrepreneur. Subscribe »
Where will the next wave of innovation come from? Trick question: It's already here. Below are nine entrepreneurs aged 20 and under who are making gains in giant industries. Some are releasing innovative new products; others are bringing new perspectives to more complex fields like venture capital and contraception. And to be clear, these nine capture only a glimpse of the energy, savvy and ambition of their generation. They'll be making an impact for decades to come.
Alina Morse, 13
Founder and CEO, Zollipops
Image Credit: David Yellen
Alina Morse conceived of Zollipops after, at age seven, she learned that lollipops are bad for teeth -- setting her off on a quest for tooth-friendly versions. More than 100 trials later, she and her dad had it: They replaced sugar with natural sweeteners like xylitol and erythritol, which have been shown to reduce plaque and oral bacteria. Whole Foods picked up their line, her pops (followed by taffy and hard candy) became chart-toppers on Amazon, and Alina discovered a knack for TV appearances -- perfectly mixing cute-kid and business talk into attention-grabbing segments on the likes of Good Morning America and The Steve Harvey Show. "I really didn't see the risk, because I felt like I had nothing to lose," she says. Now her candy is sold in 7,500 stores, is projected to drive $5 million to $6 million in retail sales this year, and both her parents technically work for her -- her mom as "stylist and schedule organizer," and her dad as manager, as well as co-salesman at trade shows. (Zollipops now has a team of six full-time employees, along with several independent contractors.) It's heady stuff, but Alina, now 13, already has a mind towards work-life balance. "Sometimes my friends will tell me they saw me on television, but other than that, I'm just like everyone else," Alina says. "That's how I want to be." (To read more about Alina, who's on our September cover, check out How This 13-Year-Old Entrepreneur Built a Multi-Million Dollar Candy Company.)
Related: 5 Priorities for Young Entrepreneurs
Moziah Bridges, 16
Founder and creative director, Mo's Bows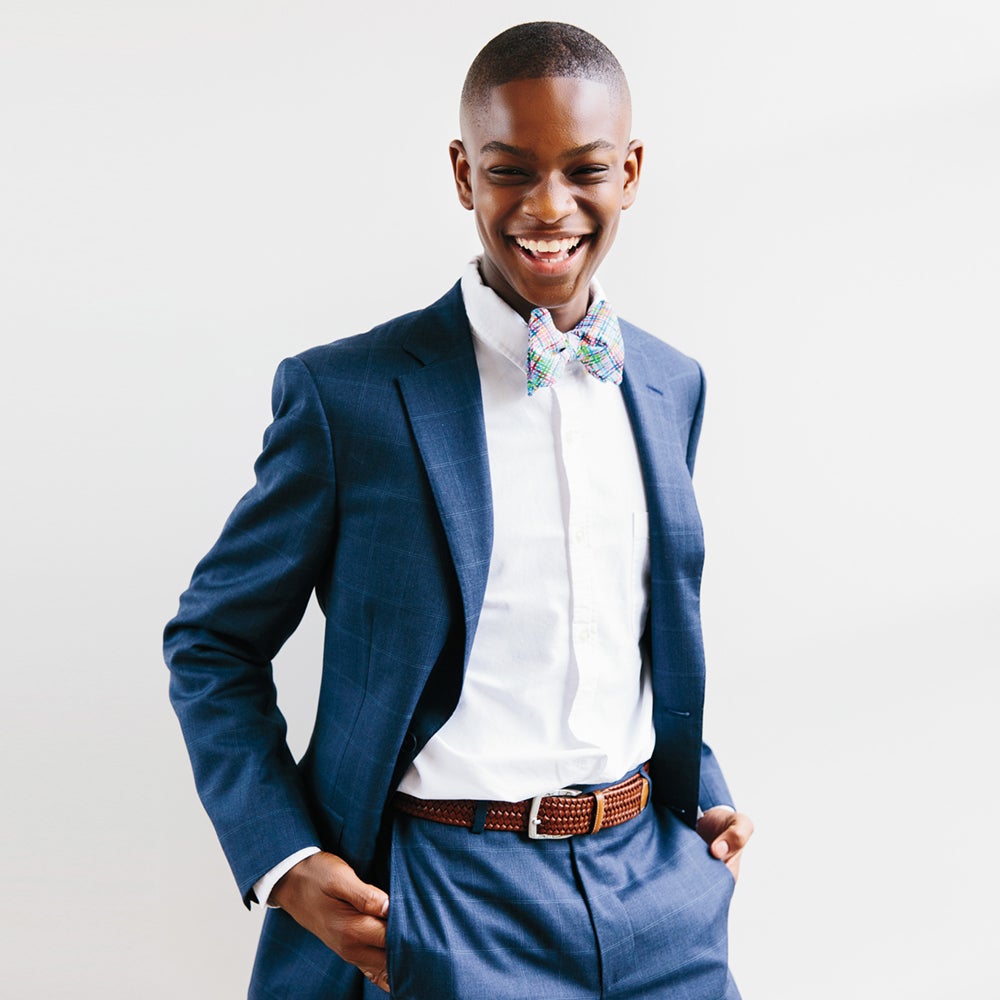 Image Credit: Courtesy of Moziah Bridges
Moziah Bridges has always appreciated good style. As a nine-year-old in Memphis, he'd ride his bike around the neighborhood in a suit and tie. He loved the unique and unusual, especially bow ties, but could never find them in the patterns and designs he desired. He asked his grandmother to teach him to sew, and Mo's Bows was born. "Originally, I didn't sell the bow ties. I was trading them for, like, bags of chips," says Bridges. But orders kept coming in, and he finally started charging in cash rather than snacks. Since 2011, Bridges has notched nearly $700,000 in sales, appeared on ABC's Shark Tank, and signed a one-year licensing deal with the NBA to create signature bow ties for each team. As the company continues to grow, Bridges wants to expand his skill set, too. He hopes to attend New York's Parsons School of Design and launch a full clothing line by the age of 20. "I want to showcase all the skills I've learned," he says. But first things first, he adds: "I want to get my license and buy a Jeep."
Rachel Zietz, 18
Founder and CEO, Gladiator Lacrosse
Image Credit: Courtesy of Rachel Zeitz
"There are a lot of bumps along the way, but the biggest bump is being a teenager," says Rachel Zietz about her entrepreneurial journey. At 13, she started Gladiator Lacrosse to make durable, affordable practice equipment for her favorite sport, and as the business grew, her life became a balancing act. "The school day is the same as the business day, so it's a lot of time management and explaining to teachers that you have to miss part of the day because you're speaking at a conference about your business." Over the past five years, she's grown the brand to have a national retail presence; it's projected to do $2 million in revenue this year, and this summer, her gear was used at the World Lacrosse Championship, which was broadcast on ESPN. Now, as a freshman at Princeton studying economics, she plans to continue building her business, and as a veteran CEO, she is prepared to voice her hard-earned opinions in class. "I want to hear if I'm wrong or if I'm right -- and why I'm wrong or why I'm right."
Related: How One Teen Entrepreneur Is Righting History
Abby Kircher, 18
Founder and CEO, Abby's Better
Image Credit: Courtesy of Abby Kircher
When Abby Kircher displayed her startup's product -- healthy, good-for-you nut butters -- at her first natural-product trade show in Baltimore, people loved the taste. They were less sure of Kircher herself. "I was 15 at the time. I'd start talking about our product and people would kind of look to my mom and dad, because it was assumed they were in charge," she says. "But I was like, 'I'm Abby!' " Confusion aside, the ultimate response was encouraging, and what started as a health-driven hobby in her parents' kitchen has since ballooned into Abby's Better, a brand distributed along the East Coast and Midwest in stores including Wegmans and Lowes Foods, with revenue surpassing $1 million for 2018. Running a team of 12 employees (including her parents and a couple of her brothers) has been a crash course in leadership for the young entrepreneur. "I've learned a lot of humility, that's for sure," Kircher says. "You can't rely on just yourself or just your experience. You have to ask for help and advice and support." Even with a strong support system, Kircher knows she's given up a lot of valuable teen time to be a young CEO. "There have been sacrifices in terms of not going out with friends or to parties because I'm making product or working on our marketing," she says. "And I'm postponing college right now, which is a big sacrifice. But I regret nothing. Running a business is all-consuming in a way, but it's worth it because you know you're working toward your goals, not someone else's."
Brennan Agranoff, 18
Founder and CEO, HoopSwagg
Image Credit: Courtesy of Brennan Arganoff
Brennan Agranoff grew up in Oregon, not far from Nike's headquarters -- and he and his friends loved Nike. But at the age of 13, when his pals started sporting the brand's $14 Elite basketball socks, Agranoff found the trend to be, well, dull. They came only in muted tones, and Agranoff wanted to stand out. He bought a pair of brightly patterned socks online that set him back $40. "I wanted more, but that price was just ridiculous," he says. He spent nine months researching the printing process, built a business plan, persuaded his parents to invest $3,000 and launched HoopSwagg, a playful brand that manufactures eye-­catching basketball socks. Five years later, he has 20 employees and 700 original patterns, and he's on track to hit $1.6 million in revenue this year. He's putting off college to focus on the business, recently launching a second company, PetParty, that prints on-­demand socks featuring images of Fido and Cuddles. "The concept of quick-turnaround, customized products is where I see the industry heading," Agranoff says.
Anton Klingspor, 18
Founder and general partner, Indicina Ventures
Image Credit: Carlisle Kellam
As a six-year-old, Anton Klingspor cut his entrepreneurial baby teeth at his family's abrasives - ­manufacturing company, routinely attending board meetings in his kiddie-size suit and tie. "There's a picture of me drinking a sippy cup of OJ and programming," he says. By the time he reached junior high, he was dabbling in his own ventures, most notably creating a website with proprietary software that allowed his classmates (for a modest fee) to cut the line at the Adidas website to purchase in-demand Yeezy shoes. (He never heard from Adidas, but Klingspor has received a few cease-and-desist letters from other companies following similar programming ploys.) And in late 2016, with personal capital from earlier enterprises as well as family investments, Klingspor launched the Miami Beach-based Indicina Ventures. The company's function is twofold, as both an incubator and a venture capital firm, but its mission is singular: Help foster the ideas of young entrepreneurs who are not taken seriously by traditional VCs. "Age isn't a factor in innovation," says Klingspor, who is focused on tech startups and is particularly keen on companies that help Gen Zers create YouTube presences, soup to nuts. "If you walk into any kindergarten class and say, 'What does everyone want to be when they grow up?' the answer is 'YouTuber,' " he says. Currently, Indicina's assets total $53 million, and the company's portfolio includes everything from an AI startup to a talent management business. Klingspor is now looking for the right partners to help manage it while he undertakes another lofty pursuit -- completing his bachelor's and master's degrees in four short years. "It sounds fanciful, but that's the goal."
Keiana Cavé, 20
Founder, Mare
Image Credit: Courtesy of Keiana Cavé
At 15, Keiana Cavé was fascinated by ongoing efforts to clean up the 2010 BP oil spill. Curiosity led the science-minded teen to ask professors at nearby Tulane University to let her use their labs for research, and she discovered something nobody else had: Cancer-causing toxins were developing in the seawater. "I initially tried to publish papers on the topic, but it takes a long time, and academia doesn't have very high visibility," says Cavé, now 20 and a junior at the University of Michigan. "Starting a company, things move a lot quicker." She launched her startup Mare with the intention of finding ways to neutralize those toxins, thereby stopping them from harming the ocean's inhabitants and, eventually, humans as well. At a pitch competition at MIT, Cavé caught the attention of a Chevron executive, which led to a $1.2 million investment and helped her build a team of 14 employees. Earlier this year, Mare was acquired by an oil-and-gas corporation, and that exit has given Cavé the financial freedom (and time) to focus on her next project: developing a nonhormonal, over-the-counter contraceptive pill. "Bye-bye energy, hello drugs," she says, laughing. She's hush-hush about details but says industry partners are already helping her work to make this a reality. Once again, she hopes that starting a company will help her do what a published scientific paper could not: "The same way I was able to change mindsets about approaching oil-spill cleanup? We just have to change mindsets again."
Zandra Cunningham, 17
Founder and CEO, Zandra Beauty
Image Credit: Courtesy of Zandra Cunningham
Zandra Cunningham, like a lot of young girls, was obsessed with lip gloss. When she was nine years old, with the help of her mom, she started making her own lip balms using kits purchased online and the guidance of YouTube videos. She'd pass out her homemade products at her church in Buffalo, N.Y. "One day a lady gave me a dollar in exchange for the lip balm," says Cunningham. "And I was like, Oh, I can make money off this!" She began experimenting with new formulas for all-natural skincare products, using each failure as motivation. "The first soap I made looked like crap," she says, laughing. "But it smelled good and the lather was good, so we kept going." She enrolled in KidBiz, a summer youth program offered by SUNY Buffalo State, to learn the basics of building a business. She eventually earned a spot at a pitch competition hosted by Etsy and secured a placement deal with gift retailer Paper Source. From there, business snowballed: Today, Zandra Beauty is sold in Costco, Bed Bath & Beyond and Wegmans. Revenue is approaching $1 million, and a pending partnership with Target holds the promise of extreme growth. But Cunningham still wants to strengthen her foundation. "I'm starting college this fall, and people have asked me, 'Why do you need to go to college?' " she says. "But there's always something to learn."
Related: Top 10 Advantages Teen Entrepreneurs Have While Commencing a Business
Isabella Rose Taylor, 17
Founder and CEO, Isabella Rose Taylor
Image Credit: Courtesy of Isabella Taylor
Like any entrepreneur, Isabella Rose Taylor has had her fair share of highs and lows. She launched her fashion brand for young women when she was eight and quickly landed in local retailers and boutiques. In 2015, Nordstrom came calling, and her designs spread across the country. But as sales rose to the high six figures, Taylor struggled with sourcing and manufacturing as she tried to scale on the fly. "The Nordstrom deal forced us to handle growth very quickly," she says. "I was just putting out fires, when I really needed to scale back and restructure." So she did. She stopped working with large retailers, and left her hometown of Austin to study fashion marketing at New York's Parsons School of Design; she's since moved home and is taking online business classes from NYU. Taylor is now thinking strategically about partnerships that can build her brand -- like a 2017 collaboration with PBteen -- and has found partners to help her scale as she rebuilds her retail presence. "I know more about manufacturing and distribution now, but I still don't have those years of expertise," she says. "With a strong team in place, I have the luxury of thinking big-picture."
loading...