Diversity Wins: All of the People Who Made History in the 2018 Midterm Elections
The 2018 US midterm elections, which captured nearly as much attention as a presidential election, was historic on multiple fronts.
This story originally appeared on Business Insider
The 2018 midterm elections, which captured the attention of the nation almost as much as a presidential vote, saw made history on multiple fronts.
A diverse set of candidates won big victories in states across the country on Tuesday night as people voted at record levels for a midterm.
Beyond the seismic shift in the makeup of Congress, here are people who made history on an individual level in this year's midterm elections.
---
Jahana Hayes, a former high school teacher, has made Connecticut history as the first black woman elected to the House of Representatives.
Image credit: AP
2016's national "Teacher Of The Year" Jahana Hayes won Connecticut's 5th district with a projected 56% of the vote on Wednesday morning, beating Republican Manny Santos, who got a projected 44%.
Hayes succeeds Democrat Elizabeth Esty who didn't run for re-election.
Hayes grew up in a housing project and her mother struggled with drug addiction. At 17 she got pregnant but enrolled in community college and got her bachelor's and advanced degrees, the Associated Press reported.
Related: 21 Ways to Get Inspired (Infographic)
---
Jared Polis, the new governor of Colorado, is the first openly gay man to be elected as the governor of a US state.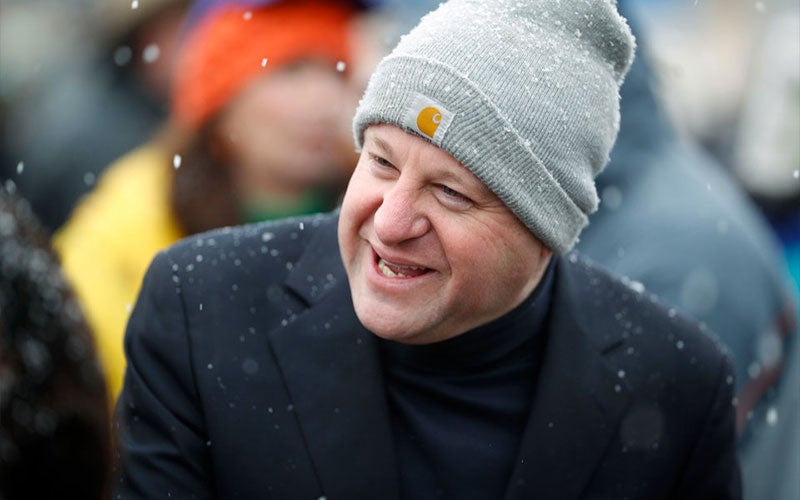 Image credit: Associated Press/David Zalubowski
Democratic Rep. Jared Polis on Tuesday night became the first openly gay man elected as the governor of a US state.
Polis, a Democrat, won the Colorado gubernatorial race against Republican Walker Stapleton.
He was not shy about his sexual orientation on the campaign trail whatsoever. "I think it really gives Colorado an opportunity to stick a thumb in the eye of Mike Pence, whose view of America is not as inclusive as where America is today," Polis said of his candidacy during a speech earlier this year.
---
Sylvia Garcia and Veronica Escobar have become Texas' first-ever Latina women in Congress.
Image credit: AP
El Paso County Judge Veronica Escobar won House district 16 for the Democrats with a projected 68.4% of the vote. Her district covers El Paso.
Sylvia Garcia, a Democratic state senator, beat GOP candidate Philip Aronoff in House district 29, which covers Houston, with a projected 75% of the vote.
40% of Texans is Latino, but voters had never elected a Hispanic woman to either chamber of Congress, until now.
---
Ayanna Pressley has become Massachusetts' first African-American congresswoman.
Image credit: AP
Pressley, a Democrat, ran unopposed in the Massachusetts 7th district after beating down 10-time Representative Michael Capuano by 17 points in the primary on September 4.
After she won, Pressley said women of color have had to create "seismic shifts" to get into office.
Related: 30 Super Inspiring Quotes About Finding Success as an Entrepreneur
---
Rashida Tlaib is among the first two Muslim women elected to Congress.
Image credit: Al Goldis/AP
Rashida Tlaib and Ilhan Omar became the first Muslim women elected to Congress, both winning seats in the House.
Tlaib is set to represent Michigan's 13th Congressional District.
The progressive Democrat is the daughter of Palestinian immigrants and was also the first Muslim female member of Michigan's state legislature.
---
Ilhan Omar joins Tlaib as another of he first two Muslim women elected, and the first to wear a hijab. She's also the first Somali-American woman in Congress.
Image credit: Reuters
Omar came to the US as a refugee in 1995.
She's set to represent Minnesota's 5th Congressional District after winning with Omar won 78% of the vote.
Tlaib and Omar campaigned together earlier this year.
---
Alexandria Ocasio-Cortez, 29, is the youngest woman elected to Congress in US history.
Image credit: Jae C. Hong/AP
Alexandria Ocasio-Cortez, 29, on Tuesday night officially became the youngest woman ever elected to Congress.
Ocasio-Cortez, a Democrat, will represent New York's 14th Congressional District.
She won a shocking victory over longtime Democratic Rep. Joe Crowley in New York's Democratic congressional primary back in June.
Ocasio-Cortez quickly became a recognizable figure for the party nationwide prior to an easy victory in her historically Democratic district on Tuesday.
Related: 7 Characteristics of Inspiring Leaders
---
Sharice Davids is one of a pair of Native American woman elected for the first time.
Image credit: Charlie Riedel, File via AP
Sharice Davids, a member of the Ho-Chunk Nation, will be the first Native American woman to in Congress after winning a big victory in Kansas on Tuesday night.
Davids defeated four-term Republican incumbent Rep. Kevin Yoder.
Davids, who is also a lesbian, will represent Kansas' 3rd Congressional District. It makes her the first openly LGBTQ person to represent Kansas in Congress.
---
The other is Deb Haaland, a member of New Mexico's Laguna Pueblo people.
Image credit: AP
Haaland — a member of the Laguna Pueblo people from western New Mexico — went for the vacant seat left by Democratic Rep. Michelle Lujan Grisham, who contested the state's governorship.
Haaland won the 1st district primary in June, and beat GOP rival Janice Arnold-Jones (36.4%) on Tuesday with a predicted 59.1% of the vote.
Grisham also won her race for New Mexico Governor.
---
Tennessee elected its first ever female Senator: Republican Marsha Blackburn.
Image credit: AP
Taylor Swift's outrage couldn't stop Marsha Blackburn beating Democrat Phil Bredesen comfortably in the race for Tennessee's Senate representative — which makes her the state's first female Senator in history.
Blackburn has a projected 55% of the vote, with Bredesen at 44%.
Blackburn's voting record "terrified" pop-star Swift, she wrote on Instagram, and Swift endorsed her Democrat opponent in a public feud.
---
Young Kim is likely to become the first Korean-American woman in Congress.
Image credit: AP
Republican Young Kim looks to have won California's 39th distract with 52% of the vote, with 94% of votes counted as of 4 a.m PST.
It's a close race though, with Democrat challenger Gil Cisneros with 48.4% of the vote so far.