What to Pack When You Live on Amtrak
We ask Amanda Steinberg, founder of DailyWorth and a busy single mom, about what she carries on regular commutes between Philly and New York.
Opinions expressed by Entrepreneur contributors are their own.
In this monthly Travel Checklist column, we ask entrepreneurs to open up their carry-ons and share the items they can't leave home without.
1
2
3
4
5
6
7
8
Frequent Amtrak traveler Amanda Steinberg reveals the cords, devices and flip-flops inside her bag.
In the image, hover over the numbers for a description. | Image credit: Amanda Steinberg
As a self-described "single mom with two kids under the age of six, running a venture-backed company in another city," Amanda Steinberg knows a thing or two about the travel grind. The founder and CEO of DailyWorth, a financial- and career-advice site catering to women, she commutes from her home in Philadelphia to her New York-based startup several times a week. Add to that prospecting meetings across the U.S., and she clocks an estimated 35,000 miles a year.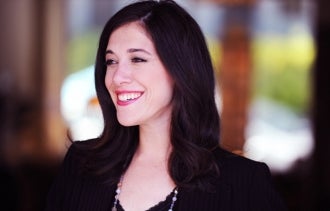 "I basically live on the train," Steinberg says. "Being a present leader is important to me and the culture of our business. I could run it remotely, but we get so much more done when I'm in the office."
Steinberg started the company from her attic in the City of Brotherly Love, but her first employees hailed from New York, and she eventually realized it made sense for a new-media company to be based in the Big Apple. While she hates the lost productivity that such a lengthy commute brings, "what I love about travel is that I live in kind of a hippie neighborhood in Philly, where I'm a mom and can be my hippie self," she says. "When I'm in New York, I'm in my power-mogul mindset. I get to live out both existences simultaneously."
With that in mind, we asked this veteran road warrior to open up her carry-on -- a gift from Lo & Sons, a company featured on DailyWorth about two years ago -- and share some of the worldly possessions that help keep her going:
1. Power cords, chargers, ear buds
"Standard travel gear, regardless of your commute. My biggest weapon [not pictured] is my Mophie, an iPhone battery case."
2. Whole Foods shopping bag
"So I can pick up groceries on 24th Street and 7th Avenue before heading back from Penn Station."
3. J.McLaughlin Catalina Cloth dress
"I own four. I can machine wash them (and air dry) before I leave and pack them rolled into a little ball. A business traveler's dream."
4. Reef flip-flops
"As soon as meetings are done, off come the heels and on go the quilted flip-flops. Mmm, quilted."
5. L'Oreal bronze lip gloss and Essie "Ballet Slippers" nail polish
"To keep me feeling polished, even when I am far from it."
6. Amtrak monthly pass
"People ask me where I live. I often say "Amtrak.'"
7. "Wildly indulgent" Gucci rimless shield sunglasses
"Which I gifted myself when we passed $1 million in revenue. They make me feel like Trinity from The Matrix."
8. MacBook Air laptop, Google Nexus tablet, iPhone
"In the future, will I still need three devices?" (Not pictured: my iPhone, which I used to take this photo!)