10 Founders on the Trips That Changed Their Lives
BEGIN SLIDESHOW
You can find inspiration in the most unexpected places.
NEXT
1. Taught independence
NEXT
2. Elevated spirituality
NEXT
3. Sparked business idea
NEXT
4. Became more open minded
NEXT
5. Found a business partner
NEXT
6. Built up a support system
NEXT
7. Became self reliant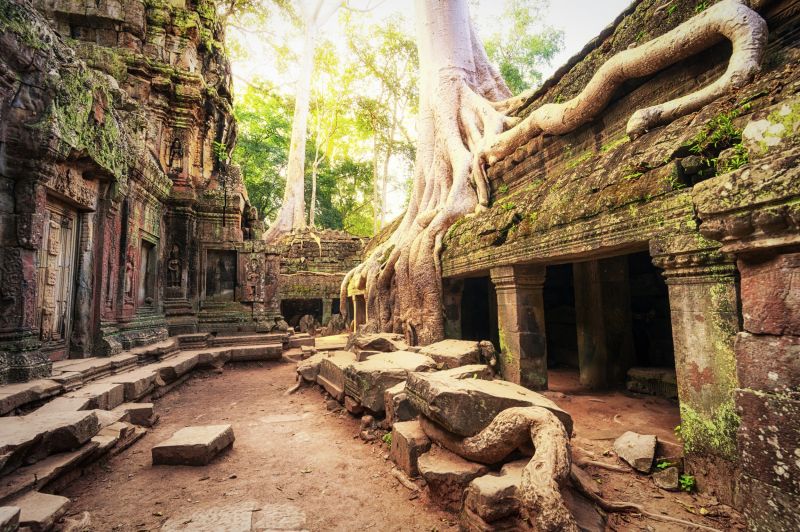 NEXT
8. Learned about the American Dream
NEXT
9. Defined mission
10. Discovered passion
A surefire way to get a new idea or alter your perspective is to get out of your comfort zone. So break free of your routine and do something different.
We caught up with 10 successful founders to ask them about the adventures and travels that forever changed their view of the world, and how it impacted their business today.
Name: Jennie Ripps
Company: Owl's Brew
Life-changing trip: After I graduated from college I moved to Prague for a year. What I learned there was that I really didn't need anything except for myself to survive. This sounds weird because you already know that, but to be in a new country for a year and recognize that I could do that alone was meaningful to me.
Read more about Ripps: The One Thing This Entrepreneur Does Each Day to Stay Productive
Name: David Perkins
Company: High West Distillery
Life-changing trip: I went to the Peruvian rainforest with my dad, his brother and my cousin. It was mind-boggling to be in a place where more than 20 percent of the world's oxygen is produced, more than half of the world's estimated 10 million species of plants, animals and insects live and one-fifth of the world's freshwater is contained. It was also a spiritual experience for me as a scientist as I met a psychic that told me things that she shouldn't have known. I could not call B.S. on that (which I normally would). That taught me to have an open mind and that my way isn't always the right way.
Read more about Perkins: This Founder Ditched His Career at 40 and Turned a Hunch Into Millions
Name: Chieh Huang
Company: Boxed
Life-changing trip: Emotionally, it was a trip to Tibet. I definitely saw not only the beauty of the place but what some folks in life are truly going through. I didn't have an easy childhood but compared to kids who are growing up in poverty in China and Tibet, that changed the way I thought about opportunity.
A trajectory changer for my professional life was teaching English in Japan for two years. I was sent off into the countryside. I felt like I wasted those two years at first, but it turned out that our first investor in Boxed actually grew up in that area. Without that initial spark, I don't think we'd be here today.
Read more about Huang:
The Surprising Reason Why This Founder Says Not to Be Afraid of the Competition
Name: Merrill Stubbs
Company: Food52
Life-changing trip: The trip that changed me the most was a trip to Southeast Asia 10 years ago. Until that trip, I hadn't been anywhere that was so different. It really opened my eyes to the extent of differences in cultures, in norms and mannerisms and the extent of diversity that exists in the world.
I think that trip just reinforced an ongoing goal of mine, which is to be open-minded about where others are coming from. This usually involves lots of listening and observing.
Read more about Stubbs: The Life-Changing Book That Helps This Entrepreneur Think Big
Name: David Bladow
Company: BloomThat
Life-changing trip: I met my wife studying abroad in Australia in college. I had to go to Australia to find a girl from Tennessee. Through that trip I met her, and we've been together for 10 years. One of the first things I said to her, when we started to become friends, was "you're one of the only people I would go into business with." It wasn't a line; it was just what I thought and felt. It was foreshadowing what was to come over the next 10 years.
Read more about Bladow: This Founder Has 3 Simple Tips to Achieve Maximum Productivity
Name: Oliver Kharraz
Company: Zocdoc
Life-changing trip: The single most pivotal trip in my life was being a foreign exchange student in the U.S. when I was 15. The stark difference coming from Germany to the States is this incredibly optimism, can-do attitude, the vision that life is getting better from generation to generation and not a downhill race. It's a version of the American Dream that makes you feel you are proud to be part of a community that can tackle so much and is not afraid.
Read more about Kharraz: This Founder Says to Succeed You Need to Question Everything
Name: Tim Chen
Company: Nerdwallet
Life-changing trip: One of the fascinating aspects of being an investor was visiting some of the facilities we invested in. In 2008, I took a trip to China as a solar investor and visited a ton of solar factories in rural areas. What I saw was astonishing. The pollution was so bad, you could only see 20 feet in front of you in the middle of the day. I just sensed the complete loss of potential in all the people there; they were in terrible working conditions. After that, I realized I wanted to help people reach their human potential, maybe one day there is a way to do that using technology.
Read more about Chen: Nerdwallet's Founder Shares the Worst Advice He Ever Got
Name: Gavin Armstrong
Company: Lucky Iron Fish
Life-changing trip: My first time really leaving North America was for a seminar course in my first year of college. We went to Botswana. I wanted to be a banker; it seemed like such a lucrative, affluent lifestyle. That trip was the first time experiencing abject poverty. After leaving Botswana, I realized I was on a selfish trajectory. Instead of just doing my undergraduate degree and getting out as fast as possible, I ended up staying 10 years at the university and earning three degrees, and then starting my own company.
Read more about Armstrong: This CEO Has Helped Thousands -- and He's Just Getting Started