Knowledge on Tap: The Business of a Beer Sommelier
How one beer lover tanked his career in favor of teaching people about his beverage of choice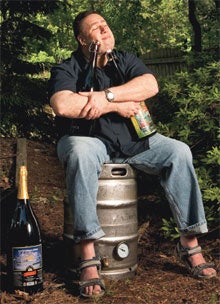 Photo© Natalie Brasington
Every frat house and bar has its self-appointed beer expert. But if you really want to learn what's worth drinking and which brews complement your favorite foods, the go-to guy is Matt Simpson, aka The Beer Sommelier.

Based in Marietta, Ga., the fast-talking Simpson has built a formidable one-man business around his knowledge of beer. He studies different styles. He discerns flavor profiles.
"Just like with wine, it's all about balance," Simpson says. "At the end of the day, this job comes down to knowing beers, knowing beer styles and understanding which combinations of beer and food are going to work best."
Continue reading this article - and everything on Entrepreneur!
Become a member to get unlimited access and support the voices you want to hear more from. Get full access to Entrepreneur for just $5.
Entrepreneur Editors' Picks