Tesla Seeks $1.6 Billion to Build a 'Gigafactory'
Elon Musk's electric car company, Tesla, needs some cash. It says it needs $1.6 billion, to be exact.
The Palo Alto, Calif.-based company today announced that it is opening an underwritten registered public offering for that amount in order to fund its growth plans, which include the development and production of its "Gen III" mass-market vehicle and construction of a battery-making facility called the "Gigafactory."
Tesla says it will work with "strategic battery manufacturing partners" to build the Gigafactory, which will span 500 to 1,000 acres of land and employ approximately 6,500 workers. The factory could be located in one of a small handful of U.S. states that are vying for the project, including Texas and Nevada.
Here's an early rendering of the Gigafactory plans: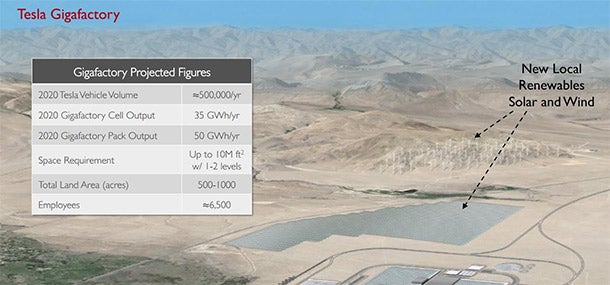 "The Gigafactory is designed to reduce cell costs much faster than the status quo and, by 2020, produce more lithium ion batteries annually than were produced worldwide in 2013," Tesla says in a blog post. "By the end of the first year of volume production of our mass market vehicle, we expect the Gigafactory will have driven down the per kWh cost of our battery pack by more than 30 percent."
Despite a series of fires, Tesla's Model S luxury electric car was recently named Consumer Reports' overall top pick for 2014.
Related: Elon Musk Admits to 'Conversations' With Apple About Tesla
Written By
Entrepreneur Staff
Jason Fell is director of native content for Entrepreneur, managing the Entrepreneur Partner Studio, which creates dynamic and compelling content for our partners. He previously served as Entrepreneur.com's managing editor and as the technology editor prior to that.