What It's Like Inside the KIND Office
The snack bar's headquarters is fun,friendly, and (no surprise) full of free munchies.
3 min read
This story appears in the May 2017 issue of Entrepreneur. Subscribe »
The most compelling thing about KIND's Manhattan headquarters isn't the Bar Bar, where staffers grab a lineup of free snack bars, but how the company got there at all. Founder Daniel Lubetzky, the son of a Holocaust survivor, says he was raised to believe in the power of kindness and the importance of human connection. This heritage shapes the company's culture, social mission and philanthropic efforts (which have grown far beyond its for-profit business model). But you can feel it in the physical space, too, which is decorated in bright, vibrant colors and meant to be a nexus for collaboration and cooperation. Between meeting spaces, Lubetzky's dad's furniture adorns various offices.
Related: All Business Is Personal: Employees Need Human Connections at Work
Hauwa Abubakar
Human Resources
"I have a floating desk. I sit with the executive admins, hanging at their area. I sit on the round ball chairs in the finance department. I spread out for audits on the marketing tables. I'm at lunch in the kitchen. I get to be a resource for team members who experience monumental life events, by simply listening and following up."
Mike Tymoc
Materials Manager
"I love the room we're in -- the Bryant Park Room. It feels like you're in the park. I like to come in here and gaze out the windows, especially when they're open in the summer. It's basically like being outside."
Stephanie Perruzza
Health and Wellness Communications Specialist
"Most of my days are filled with corresponding with some of the registered dietitians in our ambassador program on projects we're working on, or answering questions about KIND snacks. I eat one KIND snack a day and like to mix up my choices among our 65-plus varieties."
Related: This Company Set Up an Amazing Office Inside a Historic Victorian Castle
Shantella Patterson
Accounts Payable
"My favorite place is the kitchen, mainly the table in front of the Bar Bar. It's just a great quick meeting space, even when people are moving around the open office. If you need to really focus, there's a soundproof phone booth you can duck into."
John-Claude Lacroix
New Product Development Coordinator
"The smells from the test kitchen are different each day, and they filter through the whole office. You can get maple, cinnamon. Sometimes they aren't very good. You don't always get it all right."
Paba Samarasinghe
Brand Manager
"I love the dynamic -- the office is bright, the people are passionate and don't take themselves too seriously. I actively try to bring our partners in here just so they can see what the brand is all about. I'm surrounded by people with great energy. People always walking, talking, having meetings."
Khaled Abohalima
CIO
"My IT area is so much fun. It's a very unique culture -- we hold plank competitions. On average, it takes me about six months to hire someone who fits."
Related: Designing a Better Office Space
Chetika Shetty
Inventory Analyst
"I'm allergic to nuts, so I don't get to enjoy the Bar Bar too much. My favorite thing here is all the colors. Offices elsewhere are very white and bland; there's a lot of diversity here, and that's really great."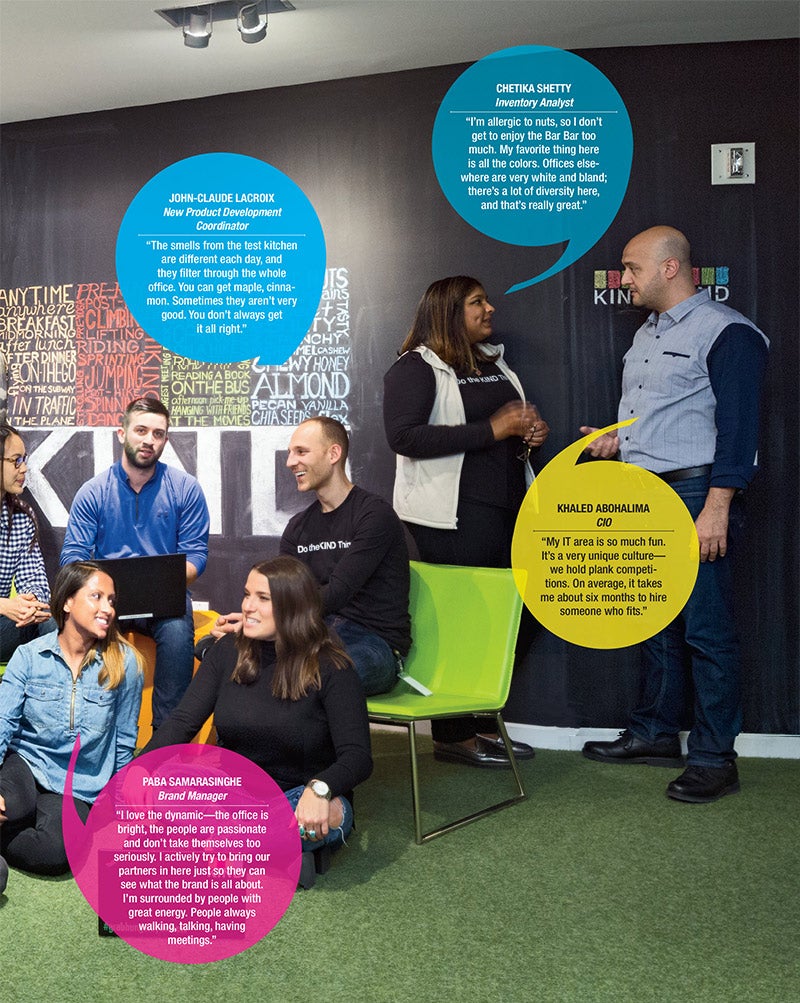 loading...