Cracker Barrel Stock: Range Bound, but High Yield For 2023
Cracker Barrel is the dog of the restaurant sector, but that has it trading at a value to sector leaders and paying the highest dividend in the group.
This story originally appeared on MarketBeat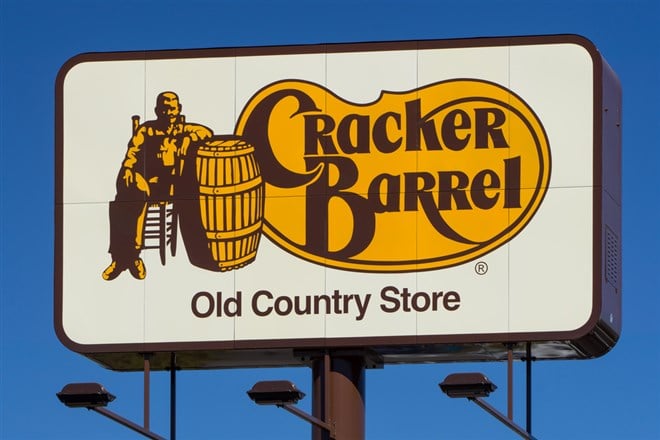 Cracker Barrel (NASDAQ: CBRL) is fairly valued compared to the run of restaurant stocks, yet it lags the group. The stock trades at 18X earnings compared to a range of 9X for Bloomin' Brands (NASDAQ: BLMN) and 21X for Texas Roadhouse (NASDAQ: TXRH) while paying the highest dividend of the lot. The company has been struggling with perceptions of growth, not growth itself, because that is present and opening up an opportunity.
Assuming this well-recognized and highly-trafficked national brand can get out of its slump, it could produce a multiple-expansion with the high yield. Regardless, the stock appears well-supported at current levels and just issued favorable guidance so 2023 looks like a winning year for investors.
Cracker Barrel Has a Good Quarter
Many things have plagued Cracker Barrel's results, but traffic is not one of them. The stores are regularly on waits that could be shortened by higher staffing which is an issue across the service landscape. Whether or not this issue is diminishing is yet to be seen, but there is evidence hiring in the services sectors, specifically F&B/hospitality is strong. This is evident in Cracker Barrel's forecast for wage inflation which has that running in the mid-to-high-single digits again in 2023.
Regarding FQ2/CQ4 results, the company reported $933.9 million in revenue for a gain of 8.3% over last year. This is 175 bps better than expected and supported by an 8.4% comp store gain, strong off-site mix, and offset by a 4.1% increase in merchandise and retail. The margin was impacted by higher costs and wages and led to about 120 points of contraction on a GAAP and adjusted basis. The good news is that margin contraction was less than expected, leaving the GAAP and adjusted earnings at $1.48 or $0.12 ahead of the Marketbeat.com consensus.
The guidance is what has the market in a stir. The company raised its guidance for the year because it expects momentum to carry into the first half of 2023. Execs upped the revenue growth target to +7% to 9% compared to the 6.6% consensus estimate, and the operating margin is expected to improve, if only slightly.
The Analysts Could Provide A Catalyst For Cracker Barrel
The 7 analysts with current ratings on Cracker Barrel have the stock pegged at Hold with a price target that assumes it is fairly valued at $107. No new commentaries have appeared on Marketbeat's analyst tracking page yet, but these results should precipitate at least a few revisions. The last revision was a price target increase in January that puts the stock about 20% above the current price action. More like this will get this stock moving upward again; the question is how high it will go.
The post-release activity shows bulls waiting to move this dog higher, but the bears were waiting to take advantage. The price is in a trading range that could keep it moving sideways for the foreseeable future. The caveat is that price action is winding up into a coil that could unwind in 1 of 3 directions, up down, or sideways. Based on the action in other restaurant stocks, the bias is to the upside, but there is also a risk. Economic uncertainty prevails in 2023 and the year may not turn out as Cracker Barrel execs forecast.