For Subscribers
How an Earplug Company Supports Jobs for 200 People with Disabilities
How one earplug company supports jobs for 200 people with disabilities.
Opinions expressed by Entrepreneur contributors are their own.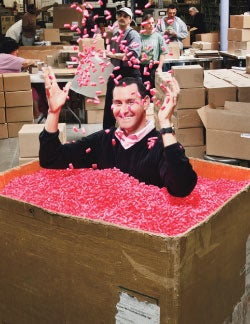 Photo © Jeff Clark
Thanks to the ambient noise of his University of Southern California college campus and the surrounding urban chorus of screeching tires, police sirens and the occasional gunshot, Douglas Pick needed some sleep. Many nights, while a student at USC's Lloyd Greif Center for Entrepreneurial Studies, earplugs delivered the silence he craved.
After leaving a job at A&M Records in 1992, Pick put the lessons from his USC days to work to research earplugs. His nights on the L.A. university campus had made him a strong believer in the benefits of the tiny foam noise blockers. He saw opportunity in the sector and, later that year, launched DAP World from his apartment in Studio City, Calif.